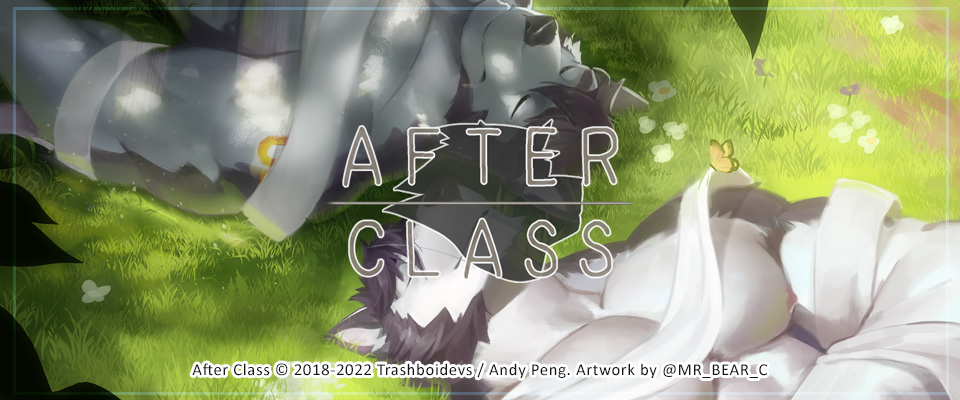 After Class
Public version: Anders Day 8
---
Good timezone, everyone, andeh here! Hope everyone is doing alright!
The long awaited update is here, I present to you: After Class ver. 0.8.50! Changes can be seen on After Class' Monthly Report with a few minor differences:
News are no longer present on title screen until further notice.
Difference in gallery screen.
Default variables have been modified.
______________
What's included in this update:
Day 1 to Day 8 of the main characters, excluding Wilfred and Andrew.
Part 1 of Housekeeping update.
What's not included in this update:
Special Episode Lars.
Anders Episode 1.
Known error(s):
Side images will be jaggy and out of place due to the change of text interface.
Changelog screen on Android phones will cause an error, best to ignore it for now.
______________
That's all we have for now, I hope you enjoy the update!
Thanks for reading!
Files
After Class / Windows-Linux
778 MB
Version 0.8.50i
Feb 18, 2022
After Class / MacOS
743 MB
Version 0.8.50i
Feb 18, 2022
After Class / Android
784 MB
Version 0.8.50i
Feb 18, 2022
Comments
Log in with itch.io to leave a comment.
I hope one day I can see Lars' special, it must be very beautiful.Em
I was given different answers about this, so I still wonder
Will the Lars Special Episode ever come to public or it's only, only only for Patreon?
I need to know if I should pay or wait until the public update release
Check the gallery, the answer is there:

Yes, it's patreon builds only
Is it available for Playful Lion level or do I need to get a higher level?
Yes, patreon content is accessible to all patreon tiers!